I don't remember when I first heard of the term, "Marriage Tax". It was probably during some election cycle and someone running for office was blaming somebody else for something. Nevertheless, the idea that couples paid more in taxes when filing a joint tax return than when filing as separate individuals stayed with me.
When tax season rolled around last year, I assumed that filing jointly with my wife would be more expensive than filing separate returns. I was wrong.
The Marriage Bonus
In general in the United States, two people filing as a married couple will save money versus if they filed as individuals. This has been happily known as the "marriage bonus".
(Of course, everyone's situation varies. There are many scenarios in which couples end up paying more. So please don't take anything in this article as tax advice. Consult your accountant.)
My wife's accountant suggested that my wife and I file jointly; my own accountant concurred. So we did and we saved a little money in the filing. However, this did not come without cost.
Bonus Work
Prior to getting married, I had to handle two tax filings every year. In addition to that, I now have to also make sure all of my wife's tax papers are organized in order to file our joint return. But even though it's not a trivial thing, I'm handling the additional paperwork easily enough with the help of OmniFocus.
Tax-related deadlines are incredibly easy to forget. The paperwork can be voluminous. OmniFocus makes it easy to make sure that the proper reminders come up when needed.
OmniFocus for Taxes
In my last post, I mentioned that I have a task named Taxes in OmniFocus. There's slightly more to it than that.
I actually have two tasks called "Taxes". The first one resides in my company's OmniFocus project, under "Finances". The second is in my "Home" project, also under a task named "Finances".
Taxes for the Company
The company task is used for tracking the steps I need to file my company's returns: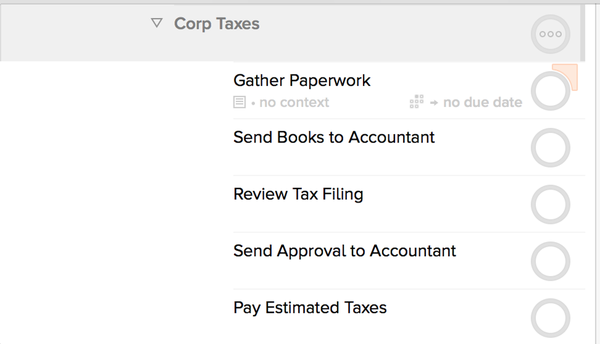 Each step in the process is a different subtask. As I do each item, I check it off the list. Once everything is done, I check off the main list, and the entire list is automatically recreated for the next year.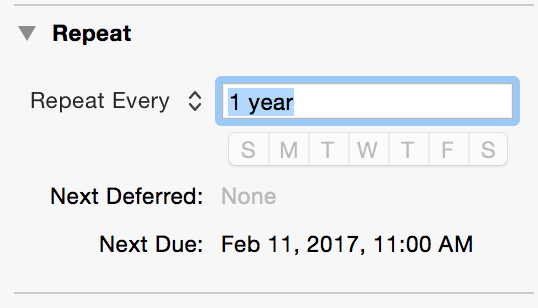 This is easily done by setting the option in the parent, "Corp Taxes", task.
Taxes for the Home
The home task is used to track the steps for filing our personal taxes. I also use it to track the different forms we collect from different financial institutions. One set of forms is grouped under my name. Another set is grouped under my wife's.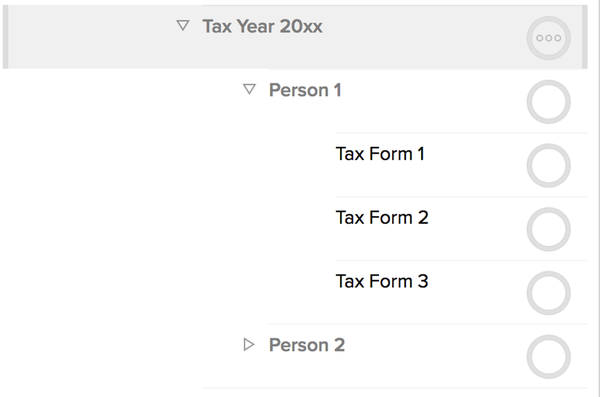 These are also set to repeat every year in the same manner. Tax forms for one year are very often used again in the next. This is an easy way to make sure I don't miss any of them.
Taxes, Simplified
Getting married resulted in a slightly more complicated tax season for me. But using my OmniFocus system helped me manage the transition. It's a pretty simple system, but it's incredibly helpful. I can feel fairly relaxed in knowing that I'll remember to take care of my tax paperwork when they need to be done.
Speaking of which, I'm in the middle of tax prep busyness right now. Hopefully you find this helpful in some way to manage yours. Let me know via twitter or email! (at hi@thediligent.xyz)
– stay diligent